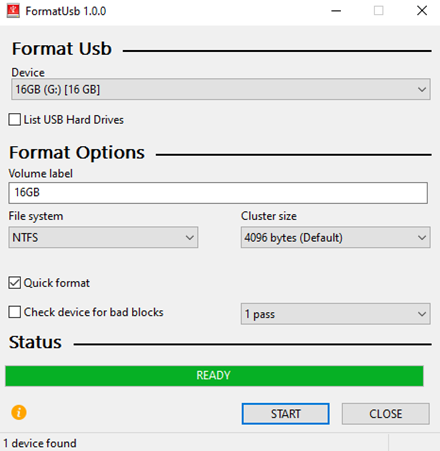 Full Features
1. ✅ Restore USB Drive Back To Original Full Capacity.
2. ✅ Check Bad Block in USB Flash Drive.
3. ✅ You Need to Format the Disk in Drive" error message
4. ✅ Fix Corrupted Usb drive.
5. ✅ Fix USB Drive Detected But Not Accessible.
6. ✅ Format USB drive to Fat32/NTFS/UDF/exFAT/ext2/ext3
7. ✅ Remove U3 Partition from USB stick .
8. ✅ Win32 Disk Imager tool to write the IMG to the device only few mb usable
9. ✅ Fix USB drive unusable, unformattable, and reporting 0 bytes capacity.
10. ✅ Fix cannot format USB Flash drive in windows
11. ✅ Windows was unable to complete the format,You need to format before use.
12. ✅ Fix USB flash drive turned to few MB,GB after writing an ISO image onto it.
13. ✅ Delete CDFS volume from USB drive in windows to fix USB drive to get
its original size back.
14. ✅ Fix Space Full but empty drive USB flash drive says it has all of space
used but inside all the folders are empty.
15. ✅ Fix USB Drive Not Showing Up in Windows 7/8/10 due to USB driver issues,
Drive letter, conflicts File system errors.
16. ✅ When you get a "The disk is write protected" error whileformatting the
pendrives, memory sticks,external hard drive or SD Memory Card.
17. ✅ If your USB drive is shown with a wrong size in PC, due to improper formatting
of the USB drive. Instead of seeing the actual 16GB,8GB,4GB or whatever the size of your
USB drive is, you'll see something like a couple hundred MBs available on it.